We can assure that you'll enjoy your long baths more when you know you saved a lot of money letting us do the work for you. Demolition and installation of a new bathtub can cost around a minimum of $3000. If your bathtub is still working, it can be exceptionally suitable for a bathtub refinishing that does not even cost half of what you'll spend if you get a replacement. Don't just throw out and replace your unattractive and broken tub, with professional refinishing from Bathtub Pros, you save time and money plus a longer lifespan for your tub. Save money and enjoy a brand new looking tub when you take advantage of Bathtub Pros' exceptional bathroom refinishing Rowlett TX. We can do a home service and refurbish your worn bathtub, good as new!
Bathtub Replacing Over Refinishing Rowlett TX   
We want you to save money by choosing the simpler and more effective solution to damaged bathtubs. Here at Bathtub Pros, our customers are our priority and we want you to get the best value for your money.
Bathtub Reglazing Rowlett TX - (469) 530-0015

Here's why you should get bathtub refinishing instead of a replacement
Spend only 25% of your tub replacement budget!
Quick and easy refurbishing procedures!
Hassle-free process to make your tub good as new!
Save your old tub for longer!
Let the experts handle:
Patching-up of visible damages
Stuck-up messes and patches
Strict money and time constraints
Repair of damaged accessories
Re-coloring and re-finishing work
Discoloration due to molds
Disgusting tile grouts and linings
Refurbishing of fixtures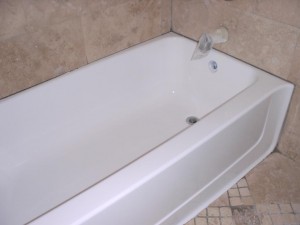 Professional Bathtub Reglazing Rowlett TX    
The cleaning procedure removes various deposits from body washing and dirt. Visible damages are patched up to complete the structural restoration process. You'll thank yourself for taking advantage of a bathroom refinishing instead of replacing a fully functioning but slightly chipped tub. A specially-formulized compound is spread all over the structurally restored tub for the final finish. Witness the change in your bathroom with a simple reglazing from Bathtub Pros to liven up your faded and dented tub. We'll bring your bathroom to life just by giving your bathtub a brand new color that works with the walls and sink. Giving your bathtub the reglazing it needs automatically uplifts the look of a bathroom as a whole and adds value to your property.
Professional Bathroom Refinishers at Your Service     
We believe that the materials are only as good as the people who install them, so we ensure that together with our high grade products, we have the best people to carry out the job. Our professional workers clean up after themselves when everything is done so you wouldn't have to deal with any of the dirty job, just a smooth and polished bathtub and sink that you can readily enjoy. We are certainly a cut above the rest of bathtub repair companies out there. We can guarantee that we are always working towards your satisfaction. We can guarantee a smooth and remarkable experience with us from the time of your inquiry until our professional workers are cleaning up on the work area when their job is done.
Durable Bathtub Repair to Last for Longer
Don't think twice and call us now for a free quote. We are willing to give you credible recommendations and care guidelines from manufacturers themselves so you can keep your bathtub in its best condition. Our team of experts will give you friendly advice on how to properly care for your tub, add this to following manufacturer guidelines and you will surely get to use your tub for longer. This is because our personnel have undergone a rigorous training in our line of work so that we can be the best at what we do. Our professional team is highly-trained to handle all kinds of surface including ceramic, porcelain, fiberglass, wood, plastic and Formica. You may not think it's possible to add another 12 to 15 more years of usage on a bathtub that you were probably ready to get rid of. Our professional team is highly-trained to handle all kinds of surface including ceramic, porcelain, fiberglass, wood, plastic and Formica. Our dedication to quality and service is apparent in all our dealings and services.
Get Your Bathtub Refinished by the Pros Today
At Bathtub Pros, we are all about customer satisfaction. No use stalling and putting off tomorrow the elegant bathroom you can have today. Don't get tricked about getting a costly renovation when all you need is a bathtub refinishing for the same results and less spending. Let's talk on how we can help you save lots of money for your refurbishing needs. Save time and money through bathtub refurbishing!
Call Bathtub Resurfacing Rowlett TX - (469) 530-0015

Dallas Bathtub Pros
Rowlett TX
(469) 530-0015
75089, 75088, 75087, 75098, 75030

Call for Your FREE Estimate

 

     (469) 530-0015