Professional and Affordable Bathtub Refinishing in Allen TX
We refinish worn out, stained, discolored, chipped and damaged tubs as a better substitute to costly renovations or remodeling jobs. Instead of going through the trouble of demolishing and renovating your bathroom because your bathtub looks shabby, faded and broken-down, we recommend our refinishing services for less hassle and more savings.
You don't need to suffer with an old dilapidated bathtub when Bathtub Pros can give you superior bathroom refinishing [CITY] at a price that will not break your bank. Our team of hardworking experts will make sure that the final outcome of our service will leave you speechless with your pocket filled with extra savings. The replacement process can be quite expensive and can take a long time to finish. Avoid the inconvenience of demolishing your old tub and the skyrocketing expenses of having it completely replaced.
Do not get fooled by companies who will promise you an exceptional bathtub refinishing but end up doing a poor job. It's best to choose the best company that can help you achieve what you want for your bathroom.
Bathtub Reglazing (city-state) - (469) 530-0015

We recommend refinishing instead of replacing and here are very good reasons why:
Shorter turnaround time. You see results quicker!
Up to 75% savings compared to a complete replacement
Avoids unnecessary disposal of a good bathtub that's still worth using
Extends and maximizes the usage of your bathtub for 15 years or more
Helps you avoid the mess of demolishing and remodeling
Let the experts handle:
Dull colors and finish
Damaged or chipped tiles and tub
Lack of time for a complete renovation
Fading paint and stains
Dirty tile cracks and laminate seams
Grout lines discolored with mold and grime
Limited budget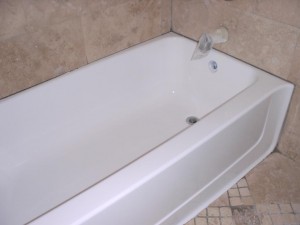 The Solution is Affordable Bathtub Reglazing in Allen TX
Our team of highly skilled professionals has been using the right way of reglazing for years which maximizes its effect on the tub. A specially-formalized compound is spread all over the structurally restored tub for the final finish. involves a two-step cleaning process that eliminates body oils, soap scum, and mineral deposits, followed by the repair of visible chips and cracks, then an application of a bonding agent to act as an adhesive between the old surface and the new finish, and finally the spray finish of long-lasting acrylic coating. From chipped to smooth, from cracked to shiny, that is how we transform old bathtubs to brand new looking ones through reglazing. The restoration process only takes a couple of hours and a small reasonable price to make your tub looking good again. The process consists of a special two-step procedure to clean and restore commonly used bathtub materials.Here at Bathtub Pros, we have the expertise in restoring service for we have been doing it for years.
Talk to us and we'll let you know how we can give your tub that smooth feel that you haven't felt in a long time.
Expect the Best from the Finished Product
We can guarantee that we are always working towards your satisfaction. Our professional refinishers not only excel in the actual job but they also clean up the work area and pick up any debris so that your bathroom is left immaculately clean and ready for use. Bathtub Pros is committed to achieving the highest rate of customer satisfaction. We take the time to even out the external coating of the final finish by meticulous buffing and polishing procedures. We take pride in employing professional and polite workers who have been hired according to years of experience and good character.
Durability of Refurbishing
Extend your bathtub's life for an unbelievable 12 to 15 years more after you have it refinished while spending far less than just having it replaced. For added credibility, we provide 100% lifetime warranty. What we do does not give us the title of professionals; it is what we do beyond our promises that make us the most trusted team in this industry. As testament to the quality of our work, we offer a lifetime service warranty to all of our customers, which in itself is value for your money. Our team of experts will give you friendly advice on how to properly care for your tub, add this to following manufacturer guidelines and you will surely get to use your tub for longer. We encourage non-abrasive and green ways of washing your tubs as heavy-duty chemicals can do more harm than good. Avoid using harsh materials or cleaning solutions on your tub as they may damage and deteriorate your tub quicker. You might not believe how repairs can stretch your tub's life for more than 12 to 15 years but it's what we do here at Bathtub Pros.
Get Your Bathtub Refinished by the Pros Today
Save time and money through bathtub refurbishing! Avoid the hassle of complete bathroom renovation and replacement just because your tub looks awful and unattractive. You can spend the rest of your replacement budget on other things for your bathroom renovation. The sooner you call us, the sooner you can enjoy a fresher bathtub while saving more money.
Our standby personnel are happy to assist you in taking the first step to a refurbished bathtub so call us today!
Call Bathtub Resurfacing Allen TX - (469) 530-0015

Dallas Bathtub Pros
Allen TX
(469) 530-0015
75028, 75022, 76226, 76262, 75067, 75077, 76051, 76247, 75027

Call for Your FREE Estimate

 

     (469) 530-0015