Our team of hardworking experts will make sure that the final outcome of our service will leave you speechless with your pocket filled with extra savings. We refinish worn out, stained, discolored, chipped and damaged tubs as a better substitute to costly renovations or remodeling jobs. Instead of going through the trouble of demolishing and renovating your bathroom because your bathtub looks shabby, faded and broken-down, we recommend our refinishing services for less hassle and more savings. Save money and enjoy a brand new looking tub when you take advantage of Bathtub Pros' exceptional bathroom refinishing Garland TX. We can assure that you'll enjoy your long baths more when you know you saved a lot of money letting us do the work for you.
Most remodeling companies will recommend that you replace your bath or remodel your entire bathroom just because they will earn more. Here at Bathtub Pros, our customers are our priority and we want you to get the best value for your money.
Bathtub Replacing Over Refinishing Garland TX - (469) 530-0015

Here's why you should get bathtub refinishing instead of a replacement
You spend about a quarter of the total replacement or renovation cost
Avoid having to clean up mess from renovating
Less wastage of a usable tub that is just slightly bad
Longer lifespan of your tub for an additional 12 to 15 years
You can use your bathroom sooner than when you are getting a replacement
Our bathroom refinishing solves all these problems:
Stains and marks that cannot be removed
Faded paint and discolored tub
Unsafe and damaged tiles and tub
Expensive renovation costs
Incompatible bathtub color coordination with bathroom
Lack of time to spend doing or looking over the renovation
Moldy and dirty grout lines and tile cracks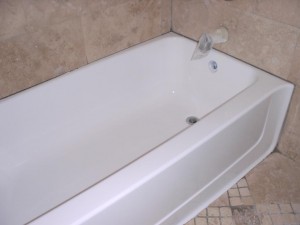 Best Bathtub Reglazing in Garland TX   
Involves a two-step cleaning process that eliminates body oils, soap scum, and mineral deposits, followed by the repair of visible chips and cracks, then an application of a bonding agent to act as an adhesive between the old surface and the new finish, and finally the spray finish of long-lasting acrylic coating. The state-of-the-art process can produce the kind of look you want to give your tub in just a few hours. Re-glazing is able to produce various kinds of finishes to your bathroom fixture to give it that aesthetic boost. The process will definitely address your style concern quickly and effectively. Reglazing simply takes retouching of bathtubs to a whole new level. We'll bring your bathroom to life just by giving your bathtub a brand new color that works with the walls and sink.Our team of highly skilled professionals has been using the right way of reglazing for years which maximizes its effect on the tub.
Professional Bathroom Refinishers at Your Service  
We take pride in employing professional and polite workers who have been hired according to years of experience and good character. We believe that the materials are only as good as the people who install them, so we ensure that together with our high grade products, we have the best people to carry out the job. We have serviced hundreds of homes and refinished more bathrooms than we can count and our customers can only attest to exceptional standards of workmanship. We are certainly a cut above the rest of bathtub repair companies out there. Our professional refinishers not only excel in the actual job but they also clean up the work area and pick up any debris so that your bathroom is left immaculately clean and ready for use. Our team's expertise partnered with the quality materials that we use is the perfect combination for an end product that you can easily show off to your guests.
Durability of Refurbishing
Bathtub Pros knows exactly what to do to lengthen the life of your tub and help you spend less instead of just throwing a slightly chipped and faded tub away. As testament to the quality of our work, we offer a lifetime service warranty to all of our customers, which in itself is value for your money. You may not think it's possible to add another 12 to 15 more years of usage on a bathtub that you were probably ready to get rid of. You can never go wrong with our professional refinishers servicing your home so call us now. Don't think twice and call us now for a free quote. As a valuable customer, we want you to have a free and no-obligation quote so call us now and let us know how we can help you. Our personnel are specially trained to handle refinishing and refurbishing works for bathtubs. We are willing to give you credible recommendations and care guidelines from manufacturers themselves so you can keep your bathtub in its best condition.
Get Your Bathtub Refinished by the Pros Today  
At Bathtub Pros, we are all about customer satisfaction. We offer the best and most competitively prices solutions for your bathtub problems. You can spend the rest of your replacement budget on other things for your bathroom renovation. The sooner you call us, the sooner you can enjoy a fresher bathtub while saving more money.
Call Bathtub Resurfacing Garland TX - (469) 530-0015

Dallas Bathtub Pros
Garland TX
(469) 530-0015
75040, 75043, 75044, 75042, 75041, 75048, 75081, 75082, 75089, 75098, 75150, 75218, 75228, 75238, 75243, 75045, 75046, 75047, 75049

Call for Your FREE Estimate

 

     (469) 530-0015