Save money and enjoy a brand new looking tub when you take advantage of Bathtub Pros' exceptional bathroom refinishing Richardson TX. Instead of going through the trouble of demolishing and renovating your bathroom because your bathtub looks shabby, faded and broken-down, we recommend our refinishing services for less hassle and more savings. Our team of hardworking experts will make sure that the final outcome of our service will leave you speechless with your pocket filled with extra savings. Refinishing costs only a quarter of the renovation costs and takes only days compared to weeks or months of renovation. Just replacing your old tub can cause severe damage not only to your budget but also to your home.
If your bathtub is still working, it can be exceptionally suitable for a bathtub refinishing that does not even cost half of what you'll spend if you get a replacement.
Bathtub Replacing Over Refinishing Richardson TX
Here at Bathtub Pros, our customers are our priority and we want you to get the best value for your money. A lot of renovation or remodeling companies will not tell you about the refinishing process because it will make them lose money while you save more.
Bathtub Reglazing Richardson TX - (469) 530-0015

We recommend refinishing instead of replacing and here are very good reasons why:
Avoids unnecessary disposal of a good bathtub that's still worth using
Extends and maximizes the usage of your bathtub for 15 years or more
Helps you avoid the mess of demolishing and remodeling
Shorter turnaround time. You see results quicker!
Up to 75% savings compared to a complete replacement
Our bathroom refinishing resolves all your bathtub problems:
Fading paint and stains
Dull colors and finish
Limited budget
 Damaged or chipped tiles and tub
Dirty tile cracks and laminate seams
Grout lines discolored with mold and grime
Lack of time for a complete renovation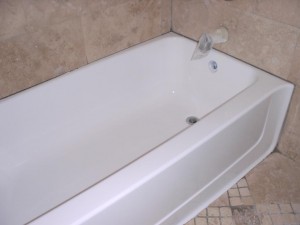 Best Bathtub Reglazing Richardson TX
The process consists of a special two-step procedure to clean and restore commonly used bathtub materials. From chipped to smooth, from cracked to shiny, that is how we transform old bathtubs to brand new looking ones through reglazing. The reglazing process only takes a couple of hours and a small reasonable price to make your tub looking good again. To finish things up, the acrylic coat is sprayed all over the tub. Re-glazing can be made for your bathtub in case you would want to create an impressively designed bathroom.Here at Bathtub Pros, we have the expertise in reglazing service for we have been doing it for years.
Talk to us and we'll let you know how we can give your tub that smooth feel that you haven't felt in a long time.  The process consists of a highly skilled professional applying a very unique acrylic coating using a fine spray technique.
Expect the Best from the Finished Product
Our team of experts are all experienced refinishers who have been in the industry long enough to know about everything under the tub. We take pride in employing professional and polite workers who have been hired according to years of experience and good character. We have serviced hundreds of homes and refinished more bathrooms than we can count and our customers can only attest to exceptional standards of workmanship. We can guarantee a smooth and remarkable experience with us from the time of your inquiry until our professional workers are cleaning up on the work area when their job is done. We take the time to even out the external coating of the final finish by meticulous buffing and polishing procedures. We believe that the materials are only as good as the people who install them, so we ensure that together with our high grade products, we have the best people to carry out the job.
Durable Bathtub Repair to Last for Longer  
You can reach this bathtub life if you follow the guidelines of fixture companies in using and cleaning your tub. You may not think it's possible to add another 12 to 15 more years of usage on a bathtub that you were probably ready to get rid of. You can never go wrong with our professional refinishers servicing your home so call us now. As testament to the quality of our work, we offer a lifetime service warranty to all of our customers, which in itself is value for your money. Our team of experts will give you friendly advice on how to properly care for your tub, add this to following manufacturer guidelines and you will surely get to use your tub for longer. Imagine spending less compared to a complete replacement but getting more than what you paid for. We do quality refinishing, reglazing and repair so you can maximize your tub and get the full value of your money and more. Don't think twice and call us now for a free quote.
Get Your Bathtub Refinished by the Pros Today
At Bathtub Pros, we are all about customer satisfaction. We offer the best and most competitively prices solutions for your bathtub problems. Give us a call and we'll make sure to hear out your requests and deliver exactly what you need. Our customers only have good words for the quality of customer service and workmanship that we provide.
Call Bathtub Resurfacing Richardson TX - (469) 530-0015

Dallas Bathtub Pros
Richardson TX
(469) 530-0015
75080, 75081, 75082, 75083, 7508

Call for Your FREE Estimate

 

     (469) 530-0015