Avoid the inconvenience of demolishing your old tub and the skyrocketing expenses of having it completely replaced. We can guarantee to exceed your expectations when it comes to customer service and handiwork. You don't need to suffer with an old dilapidated bathtub when Bathtub Pros can give you superior bathroom refinishing [CITY] at a price that will not break your bank. Don't just throw out and replace your unattractive and broken tub, with professional refinishing from Bathtub Pros, you save time and money plus a longer lifespan for your tub. We can do a home service and refurbish your worn bathtub, good as new!
Why Choose Bathtub Refinishing Lewisville TX over Replacement
Most remodeling companies will recommend that you replace your bath or remodel your entire bathroom just because they will earn more. Do not get fooled by companies who will promise you an exceptional bathtub refinishing but end up doing a poor job.
Bathtub Reglazing Lewisville TX - (469) 530-0015

Here are the top reasons why refinishing is superior over replacing:
Less wastage of a usable tub that is just slightly bad
Avoid having to clean up mess from renovating
You can use your bathroom sooner than when you are getting a replacement
You spend about a quarter of the total replacement or renovation cost
Longer lifespan of your tub for an additional 12 to 15 years
Let the experts handle:
Lack of time to spend doing or looking over the renovation
Expensive renovation costs
Moldy and dirty grout lines and tile cracks
Faded paint and discolored tub
Unsafe and damaged tiles and tub
Incompatible bathtub color coordination with bathroom
Stains and marks that cannot be removed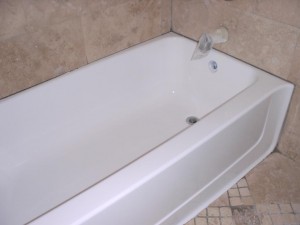 Understanding Bathtub Reglazing Lewisville TX
Our team of highly skilled professionals has been using the right way of reglazing for years which maximizes its effect on the tub. You'll never believe how smooth and fine your tub will look like after being reglazed. The reglazing process consists of a meticulous cleaning process to remove soap scum, mineral deposits and body oils, repair of cracks and chips, application of an effective bonding agent to bind the new finish from the old one, and finally the application of acrylic coating which will laminate the surface and provide for a longer-lasting smooth finish. Reglazing is proven to make the tub more durable for a longer time as well. You'll thank yourself for taking advantage of a bathroom refinishing instead of replacing a fully functioning but slightly chipped tub. A specially-formulized compound is spread all over the structurally restored tub for the final finish.
Call us now for more information about how you can make your bathroom look brand new with a simple refinishing Lewisville TX.
Seasoned Refinishers at Your Disposal
Our seasoned professionals at Bathroom Pros are all highly skilled and trained to be able to perform the job and tackle any unexpected problems that may arise. We maintain a high level of durability for bathtubs that we have refinished by following strict processes and not doing any shortcuts. Our customer service is of top priority at all times. We are certainly a cut above the rest of bathtub repair companies out there. By taking time to reach a standard finish, we are proud to say that our finished products are as good as new.
Bathtub Repair that Lasts Longer than Most
Our refurbished bathtubs will last around up to one and a half decade. We stand by our work and because you are a valued customer we can give you 100% lifetime warranty. We can handle any type of surface including ceramic, fiberglass, wood, Formica, plastic, and porcelain. Our professional team is highly-trained to handle all kinds of surface including ceramic, porcelain, fiberglass, wood, plastic and Formica. Our dedication to quality and service is apparent in all our dealings and services. No matter what type of surface your tub is – Formica, wood, plastic, fiberglass, porcelain or ceramic, our professional team can work their best and deliver outstanding results. Avoid using harsh materials or cleaning solutions on your tub as they may damage and deteriorate your tub quicker. Customers can never go wrong by choosing us as their refurbishing partner.
Get Your Bathtub Refinished by the Pros Today     
We'll help you save up to 75% with refinishing instead of replacing. Save time and money through bathtub refurbishing! Don't get tricked about getting a costly renovation when all you need is a bathtub refinishing for the same results and less spending. You can spend the rest of your replacement budget on other things for your bathroom renovation.
Call Bathtub Resurfacing Lewisville TX - (469) 530-0015

Dallas Bathtub Pros
Lewisville TX
(469) 530-0015
75067, 75077, 75057, 75057, 75056, 75010, 75019, 75028, 75065, 75029

Call for Your FREE Estimate

 

     (469) 530-0015