Don't just throw out and replace your unattractive and broken tub, with professional refinishing from Bathtub Pros, you save time and money plus a longer lifespan for your tub. You don't need to suffer with an old dilapidated bathtub when Bathtub Pros can give you superior bathroom refinishing Frisco TX at a price that will not break your bank. Just replacing your old tub can cause severe damage not only to your budget but also to your home. Avoid the inconvenience of demolishing your old tub and the skyrocketing expenses of having it completely replaced. You are sure to get a tub that looks sparkly brand new for 75% less cost and hassle when you call on Bathtub Pros.
Some remodeling companies won't tell you a lot of things and one of them is the advantage of bathtub refinishing instead of a complete replacement or renovation. It's best to choose the best company that can help you achieve what you want for your bathroom.
Call Us to Refurbish your in Bathtub Frisco TX - (469) 530-0015

Here are the top reasons why refinishing is superior over replacing:
Maximize your tub's usage for as long as 12 to 15 years more
You see the results faster
Less hassle and almost no mess to clean up compared to demolishing jobs
More savings up to 75%
Let the experts handle:
Slimy grout lines infested with molds
Cracked tiles and laminate seams that may be safety hazards
Longer working hours spent which translates to more hassle for property owner
Unattractive paint color or the lack of it
Pricey renovation costs
Marks and irremovable stains on your tub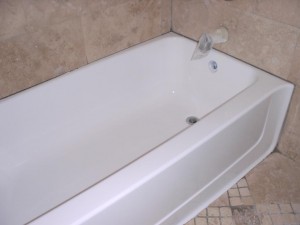 Best Bathtub Reglazing in Frisco TX
The reglazing process consists of a meticulous cleaning process to remove soap scum, mineral deposits and body oils, repair of cracks and chips, application of an effective bonding agent to bind the new finish from the old one, and finally the application of acrylic coating which will laminate the surface and provide for a longer-lasting smooth finish. You'll never believe how smooth and fine your tub will look like after being reglazed. You'll thank yourself for taking advantage of a bathroom refinishing instead of replacing a fully functioning but slightly chipped tub. Re-glazing can be made for your bathtub in case you would want to create an impressively designed bathroom. To finish things up, the acrylic coat is sprayed all over the tub.
Expect the Best from the Finished Product  
Bathtub Pros is committed to achieving the highest rate of customer satisfaction. Our seasoned professionals at Bathroom Pros are all highly skilled and trained to be able to perform the job and tackle any unexpected problems that may arise. We take pride in employing professional and polite workers who have been hired according to years of experience and good character. Our team of experts are all experienced refinishers who have been in the industry long enough to know about everything under the tub. Our customer service is of top priority at all times.
Reliable Bathtub Repair from the Pros
We can guarantee workmanship that will make your bathtub last longer than you ever believe it would. We can handle any type of surface including ceramic, fiberglass, wood, Formica, plastic, and porcelain. You can never go wrong with our professional refinishers servicing your home so call us now. Just apply proper care and follow manufacturers' guidelines in maintaining your tub and we can guarantee that you will be able to maximize its use up to its full extent. Extend your bathtub's life for an unbelievable 12 to 15 years more after you have it refinished while spending far less than just having it replaced. Our team of experts will give you friendly advice on how to properly care for your tub, add this to following manufacturer guidelines and you will surely get to use your tub for longer. Our professional team is highly-trained to handle all kinds of surface including ceramic, porcelain, fiberglass, wood, plastic and Formica. Avoid using harsh materials or cleaning solutions on your tub as they may damage and deteriorate your tub quicker.
Get Your Bathtub Refinished by the Pros Today
Don't get tricked about getting a costly renovation when all you need is a bathtub refinishing for the same results and less spending. Give us a call and we'll make sure to hear out your requests and deliver exactly what you need. At Bathtub Pros, we are all about customer satisfaction.
Call Bathtub Resurfacing Frisco TX - (469) 530-0015

Dallas Bathtub Pros
Frisco TX
(469) 530-0015
75034, 75035, 75071, 75024, 75033, 75056, 75068, 75070, 75078

Call for Your FREE Estimate

 

     (469) 530-0015