Bathtub Pros is the leading provider of bathtub refinishing Irving TX services whether for residential or rental properties. Demolition and installation of a new bathtub can cost around a minimum of $3000. The replacement process can be quite expensive and can take a long time to finish. Renovations and replacements produces so much mess and will render the bathroom unusable for weeks or even months while a simple refinish can take as quick as hours. It takes a lot quicker to get your bathtub refinished instead of having a complete bathroom renovation. Bathtub refinishing can definitely save you precious time, money and effort right at the outset!
Why Go for Bathtub Refinishing Irving TX
We want you to save money by choosing the simpler and more effective solution to damaged bathtubs. Some remodeling companies won't tell you a lot of things and one of them is the advantage of bathtub refinishing instead of a complete replacement or renovation.
Bathtub Reglazing Irving TX - (972) 573-4655

Here are the top reasons why refinishing is superior over replacing:
Less hassle and almost no mess to clean up compared to demolishing jobs
More savings up to 75%
Maximize your tub's usage for as long as 12 to 15 years more
You see the results faster
We handle all your bathroom dilemmas:
Stuck-up messes and patches
Discoloration due to molds
Strict money and time constraints
Re-coloring and re-finishing work
Patching-up of visible damages
Refurbishing of fixtures
Disgusting tile grouts and linings
Repair of damaged accessories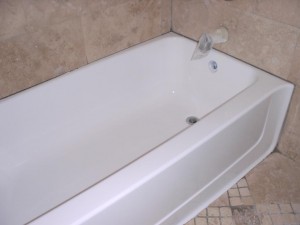 The Solution is Affordable Bathtub Reglazing Irving TX
A specially-formulized compound is spread all over the structurally restored tub for the final finish. Giving your bathtub the reglazing it needs automatically uplifts the look of a bathroom as a whole and adds value to your property. The cleaning procedure removes various deposits from body washing and dirt. Visible damages are patched up to complete the structural restoration process. involves a two-step cleaning process that eliminates body oils, soap scum, and mineral deposits, followed by the repair of visible chips and cracks, then an application of a bonding agent to act as an adhesive between the old surface and the new finish, and finally the spray finish of long-lasting acrylic coating. It includes a thorough cleaning process to get rid of mineral deposits, body oils, and soap scum, next is the repair of noticeable cracks and dents, then the application of a strong adhesive that will bond the new finish into the old surface, and lastly the finishing spray of acrylic coating to make it more durable. No need to suffer for weeks or months not being able to use your bathroom due to unending renovation.
Professional Bathroom Refinishers at Your Service
Our professional workers clean up after themselves when everything is done so you wouldn't have to deal with any of the dirty job, just a smooth and polished bathtub and sink that you can readily enjoy. Our team's expertise partnered with the quality materials that we use is the perfect combination for an end product that you can easily show off to your guests. Our refinishers deliver polished work and are meticulous about their final output. If you call us now, we can provide you with an accurate no-obligation quote. Our professional refinishers not only excel in the actual job but they also clean up the work area and pick up any debris so that your bathroom is left immaculately clean and ready for use.
Bathtub Repair that Lasts Longer than Most
Our satisfied clients have voluntarily given us their testimonials and feedback to stand beside our promise of quality service. We guarantee to produce the best results across all the most commonly used materials for bathtubs. Our personnel are specially trained to handle refinishing and refurbishing works for bathtubs. We can guarantee workmanship that will make your bathtub last longer than you ever believe it would. Just apply proper care and follow manufacturers' guidelines in maintaining your tub and we can guarantee that you will be able to maximize its use up to its full extent. Extend your bathtub's life for an unbelievable 12 to 15 years more after you have it refinished while spending far less than just having it replaced. As a valuable customer, we want you to have a free and no-obligation quote so call us now and let us know how we can help you. You might not believe how repairs can stretch your tub's life for more than 12 to 15 years but it's what we do here at Bathtub Pros.
Call Bathtub Pros Today
No use stalling and putting off tomorrow the elegant bathroom you can have today. We can discuss in detail how refurbishing can specifically help you in your time and budget constraints. Our primary goal is for our customers to be ecstatic about how their bathtubs and sinks look after we are done with the job. Don't burden yourself with an unattractive and unsafe tub.
Call Bathtub Resurfacing Irving TX - (972) 573-4655

Irving Bathtub Refinishing
800 W Airport Fwy #1100
Irving, TX 75062
(972) 573-4655
75061, 75062, 75060, 75063, 75038, 75039, 75050, 75220, 75234, 75247, 75037, 75014, 75015, 75016, 75017

Call for Your FREE Estimate

 

     (972) 573-4655