Exceptional Bathtub Refinishing in Plano TX

Avoid the inconvenience of demolishing your old tub and the skyrocketing expenses of having it completely replaced. Just replacing your old tub can cause severe damage not only to your budget but also to your home. If you have you need bathtub refinishing in Plano or you just want in a new color or finish, there are some solutions you can choose from here at Bathtub Pros. It takes a lot quicker to get your bathtub refinished instead of having a complete bathroom renovation. The replacement process can be quite expensive and can take a long time to finish.
It's best to choose the best company that can help you achieve what you want for your bathroom. We want you to save money by choosing the simpler and more effective solution to damaged bathtubs.
Here are the top reasons why refinishing is superior over replacing:
· Less wastage of a usable tub that is just slightly bad
· Longer lifespan of your tub for an additional 12 to 15 years
· Avoid having to clean up mess from renovating
· You can use your bathroom sooner than when you are getting a replacement
· You spend about a quarter of the total replacement or renovation cost
Bathtub Reglazing Plano TX - (469) 530-0015

We handle all your bathroom dilemmas:
· Unsafe and damaged tiles and tub
· Stains and marks that cannot be removed
· Lack of time to spend doing or looking over the renovation
· Faded paint and discolored tub
· Moldy and dirty grout lines and tile cracks
· Expensive renovation costs
· Incompatible bathtub color coordination with bathroom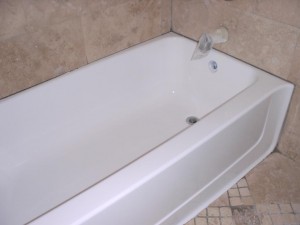 The Solution is Affordable Bathtub Reglazing in Plano TX

Here at Bathtub Pros, we have the expertise in reglazing service for we have been doing it for years. We'll bring your bathroom to life just by giving your bathtub a brand new color that works with the walls and sink. The state-of-the-art process can produce the kind of look you want to give your tub in just a few hours. A specially-formulized compound is spread all over the structurally restored tub for the final finish. Witness the change in your bathroom with a simple reglazing from Bathtub Pros to liven up your faded and dented tub. You'll never believe how smooth and fine your tub will look like after being reglazed.
Call us now for more information about how you can make your bathroom look brand new with a simple refinishing.
Professional Bathroom Refinishers at Your Service
We take pride in employing professional and polite workers who have been hired according to years of experience and good character. By taking time to reach a standard finish, we are proud to say that our finished products are as good as new. Bathtub Pros is committed to achieving the highest rate of customer satisfaction.
Durable Bathtub Repair to Last for Longer
You may not think it's possible to add another 12 to 15 more years of usage on a bathtub that you were probably ready to get rid of. For added credibility, we provide 100% lifetime warranty. Our refurbished bathtubs will last around up to one and a half decade. We widely use green and friendly approach to cleaning tubs and we recommend doing away with strong cleaners as they tend to do more damage than repair. As testament to the quality of our work, we offer a lifetime service warranty to all of our customers, which in itself is value for your money. As a valuable customer, we want you to have a free and no-obligation quote so call us now and let us know how we can help you. We encourage non-abrasive and green ways of washing your tubs as heavy-duty chemicals can do more harm than good. We can guarantee workmanship that will make your bathtub last longer than you ever believe it would.
Get Your Bathtub Refinished by the Pros Today
We provide timely service and we will do our best to accommodate you in our schedule as soon as we receive your request. No use stalling and putting off tomorrow the elegant bathroom you can have today. Give us a call and we'll make sure to hear out your requests and deliver exactly what you need. Let's talk on how we can help you save lots of money for your refurbishing needs.
Call Bathtub Resurfacing Plano TX - (469) 530-0015

Dallas Bathtub Pros
Plano TX
(469) 530-0015
75025, 75093, 75023, 75074, 75024, 75075,75094, 75010, 75013, 75082, 75252, 75287, 75026, 75086

Call for Your FREE Estimate

 

     (469) 530-0015